MS V Belt Conveyor
May 25, 2023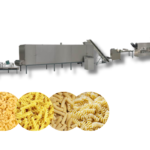 Macaroni & Pasta Processing Machine Line
July 26, 2023
Hammer Crusher 30Tons Capacity
Hammer Crusher:
Rotter Length     : 48″
Rotter Diameter :  30″
Material              : MS Iron
Main Motor        : 35Kw 3Phase
Blower                 : 3Hp
Cyclone               : Pipe / sheet cyclone attached with blower.
Bloom Engineering Hammer Mill (Hammer Crushers) :
Bloom Engineering is the manufacturer of Heavy Duty
(Small / Large Capacities of hammer crushers)
And other Range of Crushing Machines in karachi pakistan.
Hammer Mills are widely used to crush or break Different materials into small tiny mesh sizes pieces or to desired particle sizes depending on clients requirements and crushing materials like Metal Ores  Chromite crushing , minerals crushings , coal crushing , store crushing , rock salt crushing and many other products to crush.Bloom Engineering engineering team is continously working on crushing making more developed an innovative & compact designs for our
crushing equipments
Hammer mill can be used as to grind wet or dry minerals  granulations (Grinding/Pulverizing).Our Crushing Mills (
Pulverizer
Grinders) can grind various commercial scale products such as Rice grinding, Maize or grains grinding , herbal products grinding , & industrial hard chemicals grinding , rock salt crushing , stone crushing , Mineral ores crushing , crusher in cement plant for form
powder
Hammer Mill Crushing machines that we are offering are all fabricated in S.S. & Mild steel (MS Iron) materials
Main features highly efficient, resistance to corrosion (Only SS),Easy installation and cost effective solution for small jaw crusher / Hammer Mill Crushers in karachi pakistan & Bloom is delivering its engineering services all over the pakistan's major cities such as Multan, Lahore ,Okara , Chakwal , Islamabad ,Quetta Etc in specifically manufacturer of jaw crusher & stone crusher plant manufacturers,
How Our Industrial Crushers Machines Works :
Hammer Mill  operates through an electric motor which is connected to the main MS Central Shaft where all the blades are hanging this is the complete Hammer mill Grinding Rotter or (Grinding Chamber / Crushing Chamber)
The Hammer mill crusher rotor is moving at RPMS Of 2800 in a clock – wise direction at high speed hence crushing materials into smaller size particles or even powder form according to customer requirements mesh sizes are set.
Hammer Crusher 30Tons Capacity:
Rotter Length            :  60″
Rotter Diameter        :  34″
Material                      : MS (Mild Steel) Iron
Main Motor                : 60HP 3Phase (Or As Customer's Required)
Number of blades     : 160
Thickness of blades : 10mm
Different Models & Capacities Of Crushers We Are Manufacturing : 
-jaw rock crusher (single toggle jaw crusher)
-coal crusher machine
–concrete crusher machine price
-crusher shredder
Shape Of Hammer Crusher :

Our Hammer Crusher Blades are made up of hard tempered materials ,The to use this hard tempered materials are the life of hammering blades increases and the shape or design of blades depending upon the product we are grinding.
For SS crushing Machines we use SS 310 Grade of hard material blades although we also use HSS (High speed stainless steel Blades) only few products which require this high efficancy of grinding.