In the world of industrial processes, mixing liquids efficiently and effectively is a crucial aspect. Stainless steel liquid mixing tank have emerged as indispensable equipment for various industries, ensuring optimal blending and homogeneity. This blog aims to provide a comprehensive overview of these tanks and their significance in modern manufacturing processes.
What is a Stainless Steel Liquid Mixing Tank?
The purpose of a stainless steel liquid mixing tank is to combine and blend liquids with various viscosities and characteristics. These tanks are sturdy, corrosion-resistant, and perfect for sanitary applications because they are constructed from premium stainless steel. Depending on the particular requirements of the sector they serve, they are available in a variety of sizes and shapes.
Key Components and Features
Stainless Steel Construction:
The primary material used in these tanks is stainless steel, chosen for its hygienic properties, longevity, and resistance to rust and corrosion.
Mixing Impellers:
Mixing tanks are equipped with various types of impellers or agitators, such as propellers, paddle impellers, or high-shear impellers. These help in achieving the desired mixing intensity and flow pattern.
Jacketed Walls:
Some tanks come with jacketed walls that allow temperature control during processes involving heating or cooling.
CIP and SIP Capabilities:
Clean-in-place (CIP) and sterilize-in-place (SIP) features enable efficient cleaning and sterilization of the tank without disassembly, maintaining strict hygiene standards.
Ports and Valves:
Tanks are equipped with ports for adding ingredients, monitoring, and sampling. Valves control the flow of the mixed liquid, facilitating easy transfer to other containers or equipment.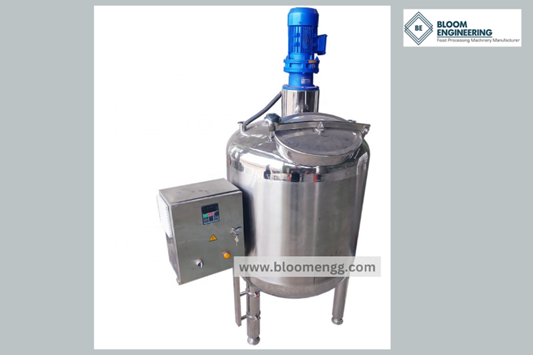 Applications of Stainless Steel Liquid Mixing Tanks
Food and Beverage Industry:
These tanks play a vital role in the production of beverages, dairy products, sauces, dressings, and confectionery, ensuring consistent product quality.
Pharmaceuticals and Biotechnology:
In pharmaceutical manufacturing, these tanks are used for mixing medications, vaccines, and other sterile solutions, adhering to stringent purity requirements.
Chemical Processing:
Chemical industries employ these tanks for blending various compounds, ensuring a homogeneous mixture for the desired chemical reactions.
Cosmetics and Personal Care:
In the cosmetics sector, mixing tanks are utilized to produce creams, lotions, shampoos, and other personal care products.
Paints and Coatings:
In paint and coating production, these tanks homogenize pigments, resins, and solvents to achieve consistent color and texture.
Benefits of Stainless Steel Liquid Mixing Tanks
Sanitary Standards:
Stainless steel tanks are easy to clean and maintain, adhering to strict sanitary regulations, critical in industries like food, pharmaceuticals, and cosmetics.
Corrosion Resistance:
The stainless steel construction ensures the tanks are highly resistant to corrosion, preventing contamination of the mixed liquids.
Durability and Longevity:
These tanks have a long service life due to their robust build and resistance to wear and tear.
Flexibility:
The tanks can handle a wide range of viscosities and process conditions, making them versatile for various industries.
Efficient Mixing:
Through advanced mixing tank with agitators, stainless steel mixing tanks ensure efficient and consistent blending, reducing production time and costs.
Conclusion
Due to their ability to combine liquids effectively and hygienically, stainless steel liquid mixing tanks have become the backbone of many industries. They are a necessity for modern manufacturing processes because of their dependability, adaptability, and high performance characteristics, which guarantee the creation of high-quality goods in a variety of industries.