A hammer crusher is an essential piece of machinery used in many industries to reduce the size of materials. It needs to be properly maintained and cared for in order to last a long time and perform at its best.
We'll offer helpful advice on maintaining and caring for your hammer crusher in this blog post. These pointers will help you extend its life and ensure dependable performance.
Maintenance and Caring of Hammer Crusher to Maximize its Lifespan and Ensure Optimal Performance:
Routine Maintenance Tasks:
1. Cleaning:
Regular cleaning of your hammer crusher is crucial to prevent build-up of debris and dust. Here's how you can clean it effectively:
Disconnect the power supply and wait for the crusher to cool down.
Use a brush or compressed air to remove dust and debris from the crusher's surfaces.
Pay close attention to the hammers, rotor, and screen, as these areas are prone to accumulation.
Inspect the crusher for any signs of wear or damage during the cleaning process.
2. Lubrication:
Proper lubrication is vital to reduce friction and ensure smooth operation of your hammer crusher. Follow these steps for effective lubrication:
Refer to the manufacturer's guidelines for the recommended lubricant type and quantity.
Regularly check the lubrication system and ensure it is functioning correctly.
Apply lubricant to the necessary parts, such as bearings, hammers, and shafts, as per the manufacturer's instructions.
Monitor the lubricant levels and refill or replace as needed.
3. Inspection:
Regular inspections allow you to identify potential issues and address them promptly. Perform the following inspections on a regular basis:
Check for signs of wear and tear on the hammers, rotor, screen, and other critical components.
Examine the fasteners and connections to ensure they are tight and secure.
Inspect the electrical connections and wiring for any signs of damage or loose connections.
Test the crusher's performance and operation periodically to identify any abnormalities or inefficiencies.
Common Issues of Hammer Crusher:
Excessive vibration: Excessive vibration may be brought on by untightened mounting bolts, imbalanced hammers, or worn-out bearings. Replace worn-out bearings, tighten mounting nuts, and periodically inspect and rebalance the hammers.
Overheating: Overheating can be caused by inadequate lubrication, worn-out bearings, or an excessive amount of material being fed into the machine. To avoid overheating, make sure the machine is properly lubricated, replace any worn-out bearings, and manage the material feed rate.
High noise levels: High noise levels might be caused by excessive wear on the hammers, loose parts, or poor installation. To lower noise levels, regularly check the crusher for wear indicators, adjust loose parts, and guarantee appropriate installation.
Uneven particle size distribution: This issue can arise from worn-out hammers, improper rotor speed, or incorrect screen size. Replace worn-out hammers, adjust the rotor speed as per specifications, and choose the appropriate screen size for the desired particle size distribution.
Bloom Engineering: Reliable Food Processing Machinery Manufacturer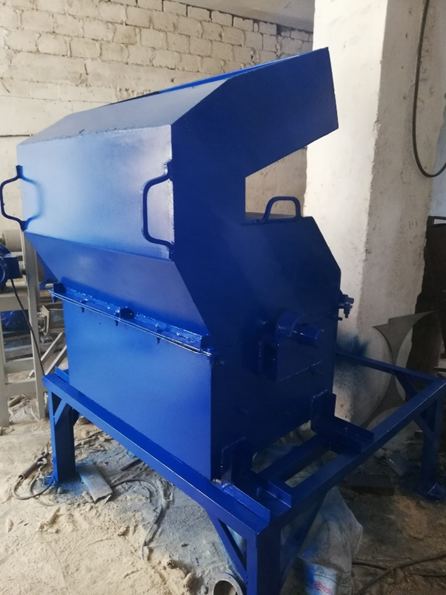 When it comes to reliable food processing machinery, Bloom Engineering stands out as a top manufacturer and exporter of hammer crusher in Saudi Arabia KSA, Pakistan, UAE, Oman and Qatar.
Bloom Engineering offer a range of high-quality hammer crusher machines, including:
Apple Purple Hammer Crusher: Ideal for crushing apples and extracting juice for various applications.
Corn Cobs Powder Making Machine – Hammer Mill: Specifically designed for crushing and powdering corn cobs efficiently and producing uniform-sized particles.
Vegetable Crusher Hammer Mill: Perfect for processing vegetables and other fibrous materials into desired sizes.
Bloom Engineering's commitment to quality and innovation makes them a trusted choice for your hammer crusher needs. Their machines are built to withstand rigorous use and provide consistent performance, ensuring your productivity and efficiency.