To be competitive in the fast-paced industrial environment of today, organizations must maximize production efficiency. To guarantee product quality and uniformity, several industries, including food processing, pharmaceuticals, and chemical manufacture, significantly rely on screening equipment. The Linear Vibrator Screener is one of the most revolutionary screening devices for increasing productivity and streamlining procedures.
What is the Linear Vibrator Screener?
The Linear Vibrator Screener is a sophisticated screening device that divides materials or particles of various sizes using vibrations. Its three mesh sieves in its construction make it extremely useful for precise and accurate sorting. Only particles falling within a certain size range can pass through the mesh sieves, which serve as filters, effectively separating and discarding the rest.
Due to its three-tiered construction, which offers the advantage of having larger screening surface area compared to conventional single-deck vibrating sifters, this type of screener is also known as the "3-a sifter vibrator." Higher throughput and improved overall efficiency are the outcomes of this.
Applications in Flour Processing
The Linear Vibrator Screener, commonly known as the "flour vibratory screener," has many advantages for the food business, especially flour processing. To ensure consistent baking results and product quality, it is essential to maintain homogeneous particle size throughout flour manufacture. This is made possible by the linear vibrator screener's effective separation of oversized and undersized flour stream particles.
Flour makers can improve the quality and safety of their product by using the mesh vibrator sorter to remove contaminants, foreign objects, and undesired particles from the flour. This level of accuracy guarantees that the finished product complies with industry standards and legal regulations, giving producers an advantage in the market.
Advantages of a Linear Vibrator Screener
High Screening Accuracy:
The three mesh sieves Linear Vibrator Screener enable precise particle separation, ensuring that only particles within the desired size range pass through, resulting in a uniform and high-quality end product.
Increased Throughput:
With its multi-layered design, this type of screener can handle higher volumes of material, improving the overall production line throughput and reducing processing time.
Space Efficiency:
The linear vibrator screener's compact design makes it ideal for facilities with limited space. Its vertical configuration optimizes floor space while maintaining high screening capacity.
Easy Maintenance:
The design of the linear vibrator screener facilitates straightforward disassembly and cleaning, minimizing downtime and ensuring smooth operations.
Customization Options:
Manufacturers offer a range of mesh sizes, allowing businesses to customize the screening process based on their specific production requirements.
Cost-Effective:
By eliminating the need for manual sorting and reducing waste, the linear vibrator screener provides a cost-effective solution for enhancing production efficiency.
Working Principle of Linear Vibrating Screen:
The two motor axes of the linear vibrating screen are inclined vertically with respect to the screen panel. The exciting force and the material's natural gravity work together to propel the material onto the screen surface so that it can leap or move forward in a straight line. A variety of material specifications are created by the multi-layer screen panels and released through their respective outputs to achieve screening and classification. A linear vibrating screen can be used to filter a variety of dry powder or granular materials with particle sizes of 0.074-5mm, moisture concentrations of 7%, and no viscosity. The feed particles' largest size is 10 mm.
Structural Composition of Linear Vibrating Screen:
Linear vibrating screen is generally composed of vibrator, screen box, support or suspension device, transmission device and other parts.
1. Vibrating Screen Vibrator:
single-shaft vibrating screen and double-shaft vibrating screen vibrators are distinguished by eccentric reconfiguration, and there are generally two types. The block eccentric type is better for the configuration of the eccentric weight.
2. Vibrating Screen Box:
The screen box is composed of a screen frame, a screen surface and its pressing device. The screen frame is composed of side plates and beams. The screen frame must be sufficiently rigid. Mainly used to keep the screen flat and achieve normal screening. The screen box is the main part of the vibrating screen.
3. Vibrating Screen Supporting Device:
The supporting device of the vibrating screen has two types: hanging type and seat type. The seat type installation is relatively simple, and the installation height is low. In general, the seat type should be preferred. The supporting device of the vibrating screen is mainly composed of elastic elements. Commonly used are coil springs, plate springs and rubber springs.
4. Linear Sieve Damping Spring:
Prevents vibration from being transmitted to the ground, while supporting the full weight of the screen box. When installed, the spring is perpendicular to the ground.
5. Vibrating Screen Transmission Device:
Typically, vibrating screens use a V-belt gearbox system. The vibrating screen has a straightforward structure. The vibrator's revolution count can be determined at will. The belt can, however, easily slip while in use. It can result in the sieve becoming jammed. Couplings can also be used to directly drive vibrating screens. The vibrator's rotations can be stabilized by the connection. It also has a protracted service life. The vibrator's revolution count can be changed, however it's not easy.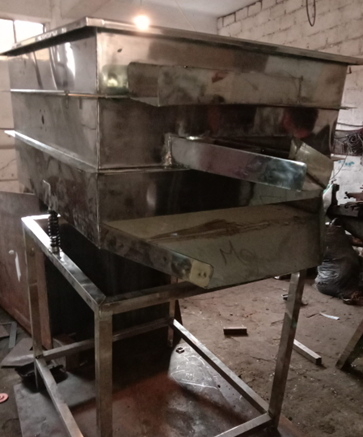 Summary:
A flexible and extremely effective screening option, the linear vibratory screener can greatly improve production lines in a variety of sectors. The flour vibratory screener maintains uniform particle size for flour processing plants, improving the quality and safety of the finished product. It stands out as a top-tier screening technology thanks to its three mesh sieves and 3-a sifter vibrator design. Manufacturers may increase output, minimize waste, and improve product quality by investing in this cutting-edge screening technology. Due to its efficiency, the linear vibrator screener has become a crucial tool for companies trying to compete in today's cutthroat industries. Your production line may enter a new era of productivity and prosperity if you adopt this technology.